After a report found flaws in the emergency response, the family of a Manchester Arena bombing victim said he "completely failed at every stage."
Chairman of the Inquiry Sir John Saunders said that it was likely that 28-year-old John Atkinson did not live because the emergency services were "inadequate."
Mr. Atkinson's family stated that he "could and should have survived."
The emergency chiefs have stated that they are "sincerely sorry" for the failures.
On May 22, 2017, suicide bomber Salman Abedi detonated a homemade device in the foyer of Manchester Arena as crowds left an Ariana Grande concert.
Sir John said in the second of three reports into what happened that night that everyone involved in the emergency response "no doubt thought they were doing their best, [but] in some cases, their best was not good enough."
"Significant Aspects" of the Emergency Response "Went Wrong," he said, adding, "This should not have happened."
"Some of what went wrong had serious and, in the case of John Atkinson, fatal consequences for those who were directly affected by the explosion," he explained.
According to the investigation, Ron Blake, a member of the public in the foyer, used his wife's belt as a tourniquet on Mr Atkinson's leg while he lay bleeding in agony on the floor for up to 50 minutes, during which time he told a police officer, "I'm going to die."
The 28-year-old was then carried to a casualty clearing area on a makeshift stretcher. One hour and sixteen minutes after the blast, he died of a heart attack.
Sir John stated that "inadequacies in the emergency response likely prevented" Mr. Atkinson's survival.
After the report came out, Mr. Atkinson's family said that it was now "clear beyond any doubt" that he had "failed completely at every stage" on the night of the bombing.
"It is crystal clear that John died from injuries that he could and should have survived," they said.
"According to eyewitnesses, John kept asking if he was going to die.
"John had to have known he was dying, and the pain he caused us is indescribable."
"This should never have been permitted to happen."
His family also stated that an apology from the North West Ambulance Service (Nwas) meant "nothing unless they act quickly on this report to ensure that no family ever has to go through this horrible experience again."
"Talk is cheap, and actions speak louder than words," they said, adding, "We'll be watching what happens now."
Sir John also said that, based on the other evidence, he couldn't say for sure that the youngest victim of the attack, 8-year-old Saffie-rose Roussos, could not have been saved if she had gotten better care.
Even though it was "highly unlikely" that she would have lived, he couldn't say that she had "absolutely no chance of survival if the most comprehensive and advanced medical treatment had been started immediately after injury."
He also found that the other 20 victims had injuries so bad that they could not have lived, and he was "certain that inadequate responses did not fail to prevent their deaths."
Saffie -mother, Rose's Lisa, told the BBC that she believes "in her heart" that her daughter would have survived if she had received the proper medical attention.
Her father, Andrew, stated that she had been "badly let down" and added, "Our nightmare continues; tomorrow, today, it doesn't end."
Sir John's report also stated that two of the most senior Greater Manchester Police (GMP) commanders on the night "made no effective contribution to the emergency response" and that the Force Duty Officer, who was in charge of initial command, was overburdened.
He named a number of things that went wrong with the emergency response to the attack and said that mistakes were made that could have been avoided.
He claimed that in the "golden hour," immediately following the bomb's detonation, "none of the emergency services had gripped the response to the attack as they should have," and that GMP, Nwas, and Greater Manchester Fire and Rescue Service (Gmfrs) had conducted separate risk assessments and arrived at different conclusions.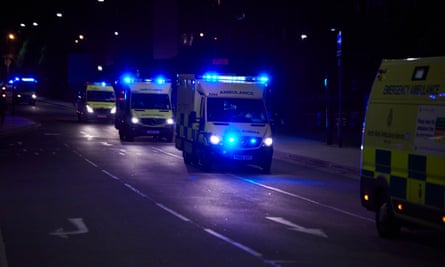 He claimed that GMP did not lead the response as it should have and that Nwas did not send enough paramedics into the foyer, while also criticizing GMF for failing to arrive at the scene for more than two hours and describing Emergency Training UK, the company contracted by the Arena to provide emergency medical care, as insufficient.
Sir John stated in this and previous reports that he believed he had "got to the truth of what happened on that dreadful night" by criticizing the British Transport Police (Btp), Arena Operators Smg, and their contracted security provider Showed.
"I also hope fervently that the findings of this investigation will make a difference," he added.
Kim Harrison, a lawyer who works for the families of 11 victims, said that the report confirmed her and her clients' "worst fears" about the "catastrophic failings" of the emergency services.
She called the report "damning" and said it was "completely unacceptable" that people died while help was on its way.
"The Government's and Emergency Services' complete and utter failure to recognize [the] mistakes [made following the 7/7 Bombings in 2005] is wholly unacceptable," she said.
Home Secretary Suella Braverman said in a tweet that she would "carefully consider" the report's recommendations.
"Without a doubt, our emergency services demonstrate incredible courage when responding to incidents of this magnitude," she said, adding that it was "right that we reflect and work together to learn from this tragedy."
Andy Burnham, the mayor of Greater Manchester, said that the "confused response" that night had "neither a reason nor an excuse."
He claimed GMP gave an "inaccurate account of their actions nine months after the attack," which was signed off on by the former chief constable.
He claimed that this was not only "disrespectful to the families of those injured," but also had the "effect of misinforming myself and the Deputy Mayor."
GMP Chief Constable Stephen Watson responded to the report by saying he was "truly sorry" for what had happened and that the force's "combined failings were significant."
"The horrible nature of what is still being sustained by so many drives us to ensure that we never repeat these failings," he said.
He went on to say that the work the force had done since the attack meant he could "already confidently state that GMP is now in a fundamentally stronger position than it was in 2017," should we be called upon to lead and respond to a similarly challenging event.
Lucy D'orsi, the head of the Btp, agreed with what he said. She said that her force made big mistakes both before and after the attack and that she was "sincerely sorry" for them.
GMFRS Chief Fire Officer David Russell stated that the report was "very difficult to read."
"Our Response That Night Was Wholly Inadequate and Totally Ineffective," he said.
He went on to say that Gmfrs "let the families and the public down in their hour of need," and he was "truly sorry."
Daren Mochrie, CEO of Nwas, stated that the company's failures "weigh heavily on us as individuals and as an organisation."
"While Our Intentions Were Good, I Apologize Wholeheartedly For Our Failures," He Said.
The investigation, which began in September 2020, will produce a third and final report focusing on Abedi's radicalization, what the intelligence services and counter-terrorism police knew about him and his family, and whether they could have prevented the attack.
A month before the investigation began, Abedi's brother Hashem was imprisoned for at least 55 years for his role in the bombing.
Read More