A month after Takeoff was shot and killed, police in Houston have arrested and charged a man with murder. Houston Police Chief Troy Finner made the announcement at a news conference on Friday.
On Thursday night, Patrick Xavier Clark, 33, was detained on Houston's East Side. The chief reported that another man, Cameron Joshua, 22, was detained last month and accused of carrying a weapon against his will. Finner responded that Joshua was present at the scene and was "in possession of a weapon (and) he's a felon" when asked how the latter was related to the case.
A member of the platinum-selling rap group Migos, Takeoff, was shot and killed on November 1 outside a business after attending a private event. He was 28. The other two individuals in the group were his uncle Quavo and his cousin Offset.
During the news conference, Finner said, "We lost a good man." I never had the pleasure of meeting him, but everyone I spoke with in the hundreds of conversations said what a wonderful person he was.
Prosecutors in Harris County requested a $1 million bond for Clark in a motion they filed on Friday, arguing that he ought to be viewed as a "flight risk."
According to the motion, Clark allegedly applied for an expedited passport soon after the murder and was given it just before being arrested. According to the court document, he had "a large amount of cash money" when he was arrested.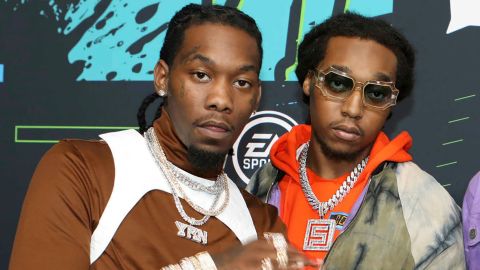 Takeoff Was Just A "Bystander." Says The Investigator
Although there is still an active investigation into the incident, authorities do know that Takeoff was "an innocent bystander," according to Sgt. Michael Burrow of the homicide division of the Houston Police Department on Friday.
The shooting occurred as a result of an argument that broke out later outside the bowling alley, according to Burrow. "The event was a private party, and there was a lucrative dice game going on," he explained.
Burrow said that Takeoff wasn't armed and wasn't involved in the dice game or the argument.
Sylvester Turner, the mayor of Houston, praised Takeoff as a gifted entertainer and many other things.
The Mayor said, calling the arrest in his killing a "significant step toward seeking justice," that "he was a son, a brother, a cousin, a friend, and a mentor to those in the music industry."
"I Want To Express My Regret And Disappointment That This Was A Case Of Another Young Man Taking The Life Of Another Young Man For No Reason," he continued. There must be an end to gun violence everywhere, not just in Houston.
Pulling a gun can have fatal consequences that are irreversible. I'm happy that an arrest was made and that we now have a person in custody. Turner said, "It's unfortunate, really unfortunate, because it doesn't bring takeoff back."
Authorities Request That Any Witnesses Come Forward
Both Burrow and the Police Chief pleaded with those who were present but fled to contact authorities and share their knowledge, as authorities are still trying to track down and speak to witnesses.
"Any Person Killed In Our City Is Tough, Tough On Their Family, Tough On Their Friends," the police chief said, according to Finner. "But…People must also step up for us. Do your part as a citizen, and don't hesitate to speak up if you see something. Avoid letting your fear paralyse you. Take a stand and speak up.
According to Burrow, there were more than 30 people outside when the shooting took place.
"Literally none of those individuals provided a statement to the police before leaving the scene," he said. It's crucial that those people come forward. "We found a few of them that night, and we've found more since."
The authorities' investigation has thus far been hampered by the need to rely on "a large volume of video surveillance," cell phone videos, audio, physical and ballistic evidence, and shooting reconstruction efforts.
As a result, according to Burrow, "We Were Able To Deduce That Patrick Clark Is The Lethal Shooter In The Case."
Read More