Three years have passed since the end of Game of Thrones, and five years have passed since the fans first began to vehemently criticise the show's final seasons. As a result, the spin-off House Of The Dragon premieres with less anticipation than it once could have, yet it has the potential to reignite interest in Westeros. Its debut immediately showcases all of the positive aspects of Thrones: an overqualified ensemble of character actors, backstabbing, exposition, and tonnes of dragons.
Because it diverged too much from the original series, the first Game of Thrones spin-off, a Naomi Watts-led adventure set in the distant past, was ultimately cancelled. It may be as a result of this that there occasionally seems to be an excess of overcorrection. The scenery in Cornwall and Spain, as well as the computer-generated dragon flights, are all stunningly depicted, and the budget is certainly late-season Game Of Thrones rather than Season 1. However, it sounds and looks eerily similar to its predecessor, right down to iconography and settings. When it comes to the plot, that's not necessarily a negative thing because it's set just far enough in the past of Westeros to keep us guessing, but it speaks to a general reluctance in Hollywood to take even the smallest of risks.
Read More:
That, however, is a criticism of the environment rather than the content of this show. Ryan J. Condal and Miguel Sapochnik, the show's creators, start with George R.R. Martin's Fire and Blood, a quasi-academic history of Targaryen's reign that lacks the intimacy of A Song of Ice and Fire but is jam-packed with intrigue and civil war. Because of the original material, these showrunners have the freedom to add to the story and its characters without departing from canon, and you can already tell that they are pushing the boundaries of the book to give these new heroes and villains more weight. They are the same people, as has always been the case in Westeros.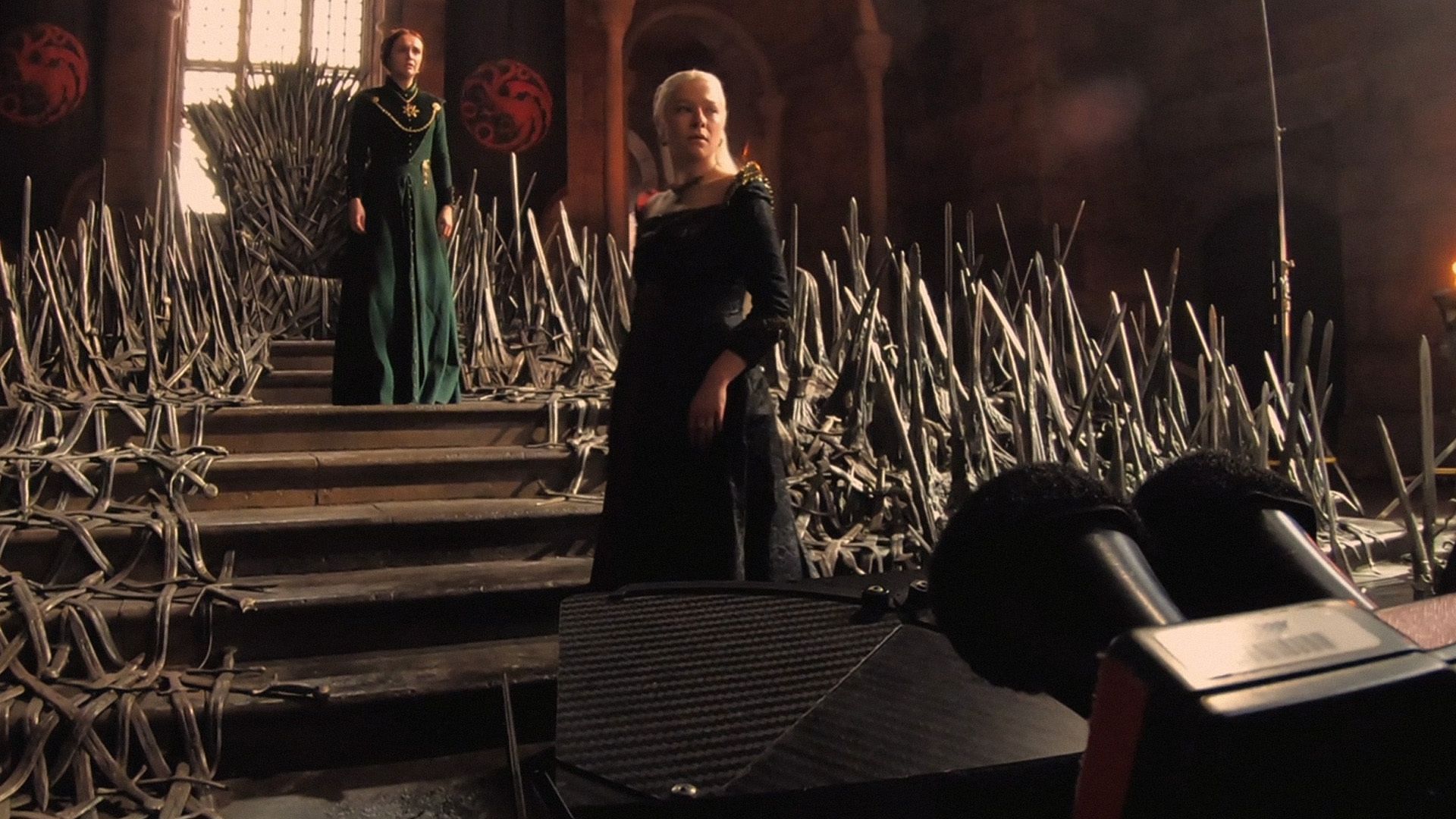 About 100 years after the Targaryen dynasty's founding and 172 years before Daenerys was born and her family was overthrown, we return to Westeros during the height of the Targaryen dynasty. Following King Jaehaerys' lengthy, mainly peaceful rule, the Seven Kingdoms are as united as they can be. His throne transfers to the amicable Viserys I (Paddy Considine), who just wants everyone to get along, following a short succession dispute. Any viewer who learns that he won't get his wish cannot be surprised. One of the best performers working today, Considine develops his characters as he goes, from bawdy humour with his council members to unexpectedly hard edges with his family. It only strengthens the impression that Viserys is not exactly the king Westeros needs if he doesn't always seem at home in long tunics and intricately carved stone palaces.
Viserys has been headbutted by his ambitious Hand Otto Hightower (Rhys Ifans) and his irresponsible brother Prince Daemon so far (Matt Smith). Otto (not surprisingly) views Daemon's vicious private army as a problem because he has been given the difficult task of creating the very important City Watch for King's Landing. In the meantime, Otto is attempting to exercise authority that rightfully belongs to the King, which Daemon (not surprisingly) also views as a problem. Daemon appears to be a sociopath, a slob, and a lousy athlete, therefore it's likely that he'll do a Jaime Lannister and become everyone's favourite (at least for a time). Smith is already giving the younger brother, whose loyalty to his king holds – just – fascinating flashes of fragility and self-mockery. He is the first person we see on the Iron Throne, which is larger and more violent than anything we have previously seen. If this is a sign, there will be much bloodshed before he sits on the throne again.
Additionally, it's crucial to keep an eye on Alicent Hightower, a young woman, and Rhaenyra Targaryen, a character who will soon be played by Emma D'Arcy as an adult (Emily Carey; soon Olivia Cooke). The daughters of the King and Hand, respectively, occasionally resemble a loving couple, but Alicent is pushed towards the King's path by her father, and Rhaenyra also flirts with her uncle Daemon. For a historical comparison, consider Anne and Mary Boleyn and their ambitious father Thomas. You worry about Alcock and Carey's potential relationships because they both perform superbly and exhibit enough chemistry in their friendship (at least).
"I'm going to watch House of the Dragon because of the script"

The script: pic.twitter.com/DAq6WHQFmO

— AMOR FATI | TLOU era (@timiretimzzy2) August 19, 2022
Even though he is the least flamboyant, the king is the most fascinating character. In between drinking like a fish and cracking nasty jokes, Considine's Viserys softly teases his daughter and compassionately supports his hugely pregnant wife Gemma (who is also his cousin and is played by Sian Brooke). He is delaying taking military action against hostile pirates, rewarding his rebellious brother, and placing all of his heirloom aspirations in his perhaps soon-to-arrive son. To his evident dismay, Gemma informs him that this challenging pregnancy will be her last. He later takes a choice that gives the initially charming king a darker and more merciless hue. The Targaryen women may be seen struggling against the patriarchal boundaries of Westeros society in these instances, and Viserys, who has directly benefited from that sexism, is slow to notice. This builds a feminist undercurrent throughout the show. Considine should give the character some time because of his intricacy and blind spots, which should also make the power battles surrounding him less predictable.
Major players will include Bill Paterson's Lord Beesbury, master of coins, and particularly Steven Toussaint's striking Corlys Velaryon, the Targaryen's oldest ally, Sea Snake, and husband to the "Queen That Never Was," Rhaenys Targaryen. Other great noble houses, such as the Baratheons, the far-off Starks, and Dorne, have also been introduced (Eve Best, chilly and authoritative). Being the ultimate Westeros power couple, the Velaryons receive the greatest and worst wigs from the series' extensive wig collection.
Each Game of Thrones review on IGN
We now have to address the issue of incest, which will be a recurring theme throughout the entire series because of all those blonde Targaryens. Wait till you learn how closely connected most of the main characters are if you thought Jaime and Cersei Lannister were a little too much. It casts a very different light on Queen Aemma's challenges in carrying her children to term as well as Uncle Daemon's gift of lovely jewellery to his niece. The Targaryens are immune from the general taboo against inbreeding, according to the book. Exceptionalism may allow them to ride dragons, but it does not spare them from the messy consequences that result when genetics and duty cross. Even if it may end up being one of the less repulsive parts of this plot when we look back on it, Daemon's favourite sex worker proposing to bring him a silver-haired damsel is already rather revolting.
remember who's making house of the dragon possible today #HOTD pic.twitter.com/lW1ps6IOae

— maleficent ✰ (@photonsmight) August 21, 2022
How many grotesqueries in the actual world can we really complain about, though, when we have dragons swooping over the early skies, knights violently jousting, and gorgeous sweeping views of King's Landing and the (still intact) dragon pit? There isn't much magic in Game of Thrones, which is one of its secrets to success. More or less all that was needed to lull sceptics of fantasy into a false sense of security was a glimpse of a few White Walkers, an exceptionally enormous wolf, and, in the last minutes of Season 1, some winged lizards. This episode of House of the Dragon opens post-prologue with a dragon in flight and its red and black colours clearly displayed. House of the Dragon debuts in a TV landscape that has been dramatically changed by Game of Thrones. This time, there is no need to mince words: House Of The Dragons is coming to lay claim to its ancestors' position as the apex of peak TV, and this first episode makes a convincing argument.
Verdict
The Game Of Thrones spin-series House Of The Dragon got off to a great, well-cast start with its debut. This has a tone and message that is very similar to its predecessor's, but it also introduces intriguing new characters and sets up a struggle for dominance centred on a likeable, weak-willed monarch right away. Dragons, inbreeding, and hostility are further problems. Good to be back in treacherous Westeros.
FAQs
Is House of the Dragon in Kings Landing?
House of the Dragon is nearly entirely based in King's Landing, as opposed to the expansive Thrones, which followed the stories of several important houses in Westeros. The Targaryens are the focus of the more narrowly focused series.